Local business NuSpice connected with REED by chance—but they're committed to the cause by choice.
When NuSpice, a family-owned custom seasoning blend company, moved their headquarters to a new space in Oakland, New Jersey, three years ago, one of the first neighbors to welcome them was the REED Foundation for Autism.
"We moved here to this location, and Lisa [Goldstein, RFA's vice president of development] came over to drop off a package of sweets, a holiday gift the students had put together," explains Jessica Goldstein (no relation), vice president of NuSpice and the daughter of the president & owner for the past 25 years, Henry. "I went over to thank them and connect," she says—and a valuable relationship was forged.
Jessica learned that the students of REED Academy package up little gifts for friends of the Academy and Foundation every year, cutting the ribbons, affixing stickers, and doing the mailing. The card on each box of chocolates reads, "Packaged by students with autism at the REED Foundation."
"It's very important to us to give back," Jessica says of her family and their company (her brother and mom also have roles in the business). "We have a bunch of family members on the spectrum, so [the work RFA is doing] hits close to home for us." She suggested that if there were anything NuSpice could do to help support REED, the team should let her know.
Jessica and Lisa stayed in touch, and when the next holiday season rolled around, Jessica commissioned REED Academy students to wrap holiday gifts for everyone on NuSpice's gift list. Not long after, Jessica invited Lisa to tour the NuSpice facility—the offices as well as the R&D, culinary arts, and QA labs.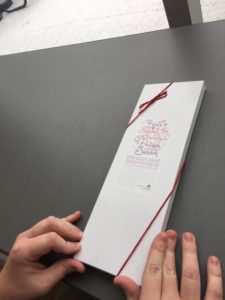 The REED team was there to see the picking, mixing, and packaging in action—and assess whether NuSpice might make an interesting and educational partner for REED's prevocational student training program. NuSpice makes custom-blended spices that you might see on gourmet popcorn, in your Blue Apron meal kit, or even on the deli turkey you ate for lunch yesterday.
Ultimately, she and the REED team determined a partnership would work. And for the past year or so, a REED Academy student has been reporting to the NuSpice headquarters regularly. "He comes in once a week," Jessica says. "It's been so cool to watch him blossom. At first, he was putting 11 labels on bags in an hour and wouldn't talk to anyone. Now he's up to 200 labels an hour, and he's talking to everyone! He even comes to our company events."
For Jessica and her family, the bond built between NuSpice and REED has been rewarding.  "You can tell these are people who care, who are genuinely there for the good of the whole," she says of the REED team.
"In our business, we feed people," continues Jessica, who also serves as vice president of the Research Chefs Association, an international organization that supports the blending of culinary arts and food sciences. "It's personal to me to make sure people have food on their plate, and that REED got the grants they needed to build Greens Do Good. It resonates with me. To see how we can improve the food culture in the U.S. and literally in our backyard—it's important to be part of that."
NuSpice's student trainee will graduate in June, and when he does, Jessica hopes to continue partnering with REED and have other students come work at her family's business. "We'd love to continue that," she says, "for as long as kids want to come here." NuSpice's relationship with REED may have started with geography, but it's lasted because of a shared commitment to caring.